About Leslie…
What makes a healer or teacher good at what they do? We often talk about "natural healers" and "natural teachers," but it's my sense that innate ability only goes so far. Everyone I've ever received deep healing and learning from—whether physical, mental, spiritual—it was because of their incredible years of practice and willingness to learn and grow by doing, receiving feedback and adjusting. And then applying it over and over to see what really works. And then, they're ready to really help others and teach.
Why does this matter so much to me? As an assistant trainer of NLP students many years ago (and this could apply to any diligent student of a healing practice), it was so pleasing to watch students slowly, through hard work and real vulnerability, acquire their skills and become masterful at what they do. And that pleasure was profoundly frustrated for me when I saw them unable to turn that new beautiful skill into healing for clients and financial thriving for themselves. I wanted something better for them; I want something better for you.
This is my commitment to myself, my clients, and my students. I believe in being mentored, receiving feedback, learning from different teachers, and self-reflective practice. And having that as a learner of Family Constellations from day one. It comes from the journey of learning I've been on…
Experience & Training
I received my initial Family Constellations training from NLP Marin in 2008. Since then I've trained with a wide variety of Family Constellations trainers and experts in related fields: Dan Booth Cohen, Francesca Mason Boring, Jane Peterson, Heinz Stark, William Mannle, Jan Jacob Stam, Sarah Peyton, Gary Stuart, Vlado Ilic, Barbara Morgan, Carol Erickson, and many others.
In 2015, I finally realized a dream when I attended a life-changing training with Bert and Sophie Hellinger in Mexico City. With the founder of Family Constellations work, I realized how much more we all have to learn from our elders. It was an honor to watch him work in such a practiced and elegant way.
Later that year, I organized the 2015 North American Systemic Constellations Conference in San Diego. This has led to expanding my relationships and work to an international level, attending the international Constellation Intensive in Bernried, Germany, and now supporting the work of the International Systemic Constellations Association (ISCA); I will be attending their conference in Croatia this October.
I have been in private practice since 2009, working with individuals and couples, applying Family Constellations principles and practices in a wide diversity of situations: marital trouble, depression, addiction, fertility issues, food problems, anxiety, employment and money challenges, and much more. I lead a constellations group in Berkeley that has been meeting every 2-3 weeks for seven years. At the same time, I've led many short workshops and longer change work programs and trainings.
I am also an ordained Episcopal minister, and have worked in the tender and personal place where spirituality and day to day life meet for over twenty years.
Who I am (from a Family Constellations point of view)
My family lineage: I am Leslie, daughter of Helen and John. Helen was daughter of Helen and Lennig, who are children of Colorado pioneers, Christian domestic missionaries, English pilgrims, German farmers, and French-Haitian plantation owners. John was the son of Anna and John, who are children of Philadelphia Quakers from England, and Midwest German farmers.
My healing and spiritual lineages: I am Leslie, student of Carl Buchheit and Michelle Masters, who were students of Gabrielle Borkan, who was a student of our founder, Bert Hellinger. I am also a student of Donald Schell and Rick Fabian, who are students of a long tradition of Christian reform and reanimation, going back to the founder, Jesus.
And a Few Other Tidbits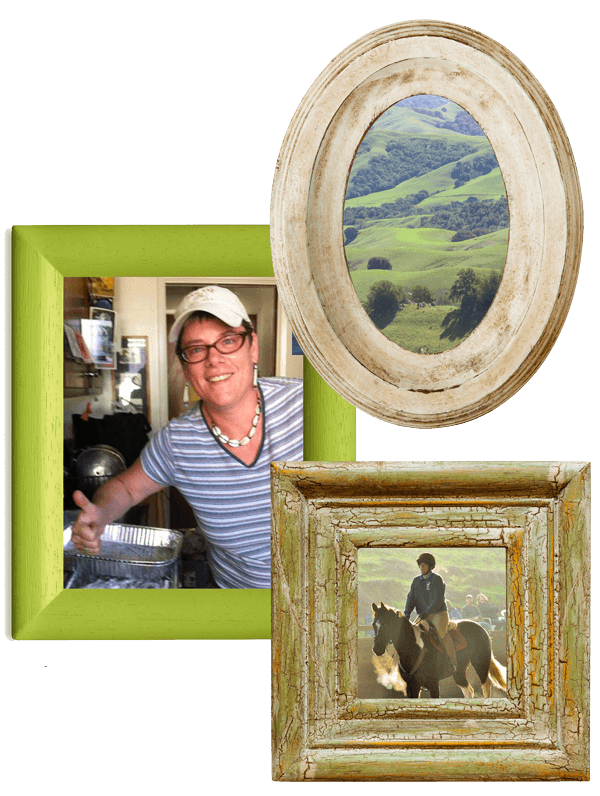 I'm a bird watcher, and chickadees rock. Watch them some time. I dare you to disagree with me on this point. They are the coolest dang birds.
I rode horses for a long time. Concluding my time-consuming, dangerous, expensive love affair with owning horses came to an end a few years ago. I'll probably find my way back sometime. Horses are important.
I refuse to walk any one trail on the East Bay Regional Park system more than once. The good news is that there a whole lot of them. They are exquisitely beautiful.
I prefer the Lake Merritt Farmer's Market for its human diversity. I prefer the Temescal Farmer's Market for its heirloom apples.
I live in and love Oakland, CA. It's an intense, beautiful, troubled urban landscape, and I can't imagine living anywhere else.
I collect rocks. Smooth beach rocks. It's gotten a bit out of control, to be honest.
I am the kind of person who can swoon both at Guardians of the Galaxy and a recording of a 16th c. Tallis chant.
I hope you enjoy my nature photography throughout this website.
Are you wondering if I'm the right practitioner and teacher for you? Let's talk. Click here to make an appointment. I promise you'll have fun and feel seen.