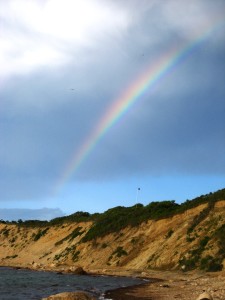 Celebrate with me! It's time to align my business more fully with my heart and my highest mastery.
Last year, I sat on the beach at Pt. Reyes, and it came to me in a flash. I felt my ancestors lovingly pestering me. And the inner geek who loves  systems stuff and thinks it's one of the BIG keys to healing and transformation.
And I heard your voices. So many of you over the last few years asking "When are you doing a constellation training, Leslie?" And now I can say, now. I am offering these things now.
For those of you who stay along for the ride mostly for your own healing, good news: I am still going to be offering individual and group healing services (with a lot of the wisdom of NLP thrown in, for those of you who know that's where I started).
And those of you who want deeper constellation dives, or who want to be trained in constellation work – my commitment to offering the immense knowledge I've acquired about constellations is now complete.
Why "Convivium"? It originally comes from the Latin, and refers to an ancient Roman meal where people would gather to eat, drink, discuss, argue and attempt to advance knowledge. It literally means "life together," and it's my understanding of what's at the heart of constellation work, and what I want to continue creating with all of you.
I have a lot of mentors and predecessors to acknowledge (you can go to my website and see those acknowledgements), but I am also bringing some unique aspects to how I understand, teach, and practice constellation work.
What will be unique about Convivium?
A deep commitment to the basics, the Orders of Love, understanding the unconscious of systems, and a dedication to the ancestors.
A focus on being a "learning organization," never ceasing to inquire, seek new influences, test the current conventional thinking, and stay in tune with what works for the client and the student.
A commitment to helping new students of this work to be really equipped – both at the level of practice and at the level of business – to jump into doing the work.
The inspiration to support each student to become the unique constellator they are meant to become.
A commitment to continue to be a practitioner, helping people like you who need help in their lives, so that my training always comes from the practical experience of doing real work with real clients.
Want to start exploring? Take a look at my new website. There are lots of new materials and services, as well as the old stand-bys – my private sessions, free business calls, group constellations in Berkeley, and much more. Just go to Convivium Constellations.
There is a lot coming up right now! And it may be a bit overwhelming. So, I want to summarize here, and then I invite you to scroll down for ALL of the events that are coming up. These are juicy, new, powerful, intense, joyful, creative opportunities, and I hope many of you can join in. (And of course, they take place while I continue to offer my usual private and group services – see below.)
1) Growth in Mastery: An Advanced Course for Constellators. NOTE: This course starts February 7th!!! Early bird ends January 27th. This will be a four month in-depth training for people who are already trained or are advanced students of constellation work. For more information go to Advanced Constellation Training.
2) Welcoming the Ancestors: A Constellation Workshop in Mt. Shasta, CA. This event will be a deep-dive for people at any level, and will take place the first weekend of March. Early bird ends Feb. 15th. For more information go to Mt. Shasta Family Constellations.
3) West Coast Systemic Constellation Intensive in Los Gatos, CA. This will be a residential retreat with leading faculty Francesca Mason Boring and Gary Stuart, May 10-14th. Super Early bird ends Jan. 31st. For more information go to West Coast Systemic Constellations Intensive.
4) Interested in more than one of the above? Terrific! I am aware that these events range from modest to quite high, and that for some of you, they all may feel like a fit, but you can't quite imagine paying for them all. I am offering discounts to anyone who chooses to register for 2 or more of these events by January 27th. For more information contact me.
I am curious – when have you jumped into something new, knowing it was time but still maybe wondering? Or, how do you react to these changes to what I offer?
I am really supported when people who connect with my writing share it so that others can see it. I would be hugely grateful, if you have a response, to please share it on my blog here. Thank you!