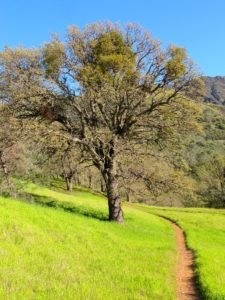 There are, generally two ways to feel better about our problems: 1) address the problems somehow so they go away or get better, or 2) develop a different relationship to the problem, and in that way feel better. Both are good approaches, and generally, we need a dose of both to keep growing.
One way to get a different relationship to problems  is some version of "accepting." Call it mindfulness, or self-rapport, or gratitude practice, or Appreciative Inquiry – they are all very similar. The teaching can be found in every religion and most philosophies.
Constellations includes both approaches to feeling better – both the healing change work, and learning how to accept what has taken place in our families with dignity. They go together. However sometimes, because we (or our clients) are in pain, we can focus more on the former than the latter, which is understandable, but not usually helpful. We need both to be more well in life.
This is where Nature Constellations comes in. Nature Constellations are now an established way of doing constellations that manifests in a wide variety of formats and contexts. Sneh Victoria Schnabel and Francesca Mason Boring first developed them based on the classic Family Constellations format, and many have followed their lead.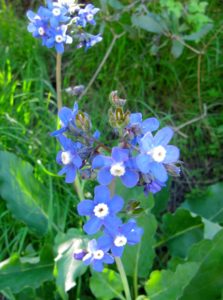 For the last two years, I have led nature constellations workshops during California's dry season. We hold them at a private picnic area in Berkeley's Tilden Park, which is set aside from our intense urban environment. We do classic long-form constellations, as well as many other shorter formats, including Michael Reddy's Altar Constellations; William Mannle's Heart Constellations; and the Spirit Animal Constellations of Michelle McKinney.
My innovations largely focus on developing a capacity to notice when nature itself is providing us with representations of what's missing in our systems: the tree that shows up as our loving grandmother who died too young; the passing hawk who represents the family tragedy, long over. We learn to be surprised, and to feel the pleasure of noticing the spontaneity of nature's gifts and that what our systems need can appear with ease.
Observing the results for clients, I've noticed how participants leave these events in deeper rapport with themselves and their life issues. We do less "resolving" and more accepting and reconciling. Participants are in their proper weight, more resilient and responsible, feeling less burdened and eager to engage their commitments. These constellations leave people more calm and less attached to trauma stories; more connected to stories of endurance and creativity.
Nature is essentially "self-accepting." When the lion eats the gazelle, when the tree falls during a storm, and when the sea batters the cliff, no one goes to therapy. Constellations done in nature share in this way of being in the world, and has a positive effect on participants. They leave with the pleasant sense that they can be with what is.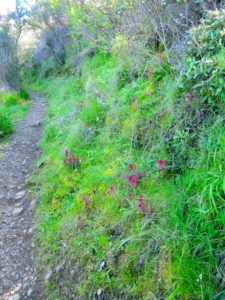 Curious? Come to my first Nature Constellations workshop of the year! We are grateful for the rains of winter, and with the dry season, we can return to Tilden to feel this sense of acceptance and healing.
What helps you with that sense of being well in the world, without needing to change things so much in order to be happy?
I am really supported when people who connect with my writing share it so that others can see it. I would be hugely grateful, if you have a response, to please share it here on my blog. Thank you!